NCPC New Jersey Shore Members
Be sure to Register with the National for 2021. Simply go to our link to the National (National Membership).
IMPORTANT! TO PARTICIPATE IN OUR 2021 NATIONAL MEET SEPT 8-11 REFER TO (2021 NATIONAL MEET HOST LINK)
MARCH SAVE THE DATE
AN INVITATION FOR MEMBERS, FAMILY AND FRIENDS.............
NATIONAL CHRYSLER PRODUCTS CLUB NEW JERSEY SHORE REGION
MARCH INTO SPRING LUNCHEON AND TOUR
SUNDAY MARCH 21, 2021
12:30 PM (ARRIVAL FROM NOON ON)
HARPOON WILLY'S RESTAURANT,
OVERLOOKING THE MANASQUAN RIVER, 2655 RIVER RD. MANASQUAN, 08736
SUNDAY MARCH 21 2021 OUR MARCH INTO SPRING LUNCHEON CAR DISPLAY & TOUR RSVP MIKE BY MARCH 14 MRIEBE55@AOL.COM 732.270.3992 WE WILL HAVE AN AREA FOR ALL MOPAR AND ANY OTHER VINTAGE VEHICLES. WE WILL HAVE A PRIVATE ROOM . AFTER WE WILL CARAVAN TO THE PT. PLEASANT INLET & ANTIQUE SHOPPES NEAR BY. IF IT RAINS JUST BRING THE DAILY DRIVER. DON'T MISS THE FUN
RSVP TO MICHAEL RIEBE BY MARCH 14
MRIEBE55@AOL.COM
732.270.3992
OUR OCTOBER 2019 DINNER MEETING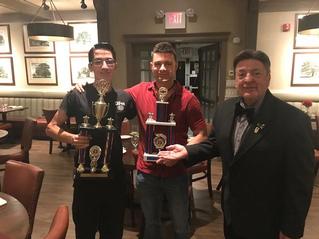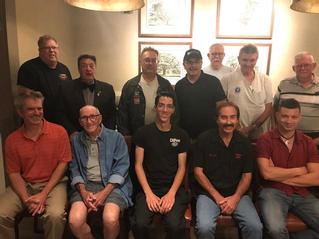 MIKE RIEBE DRESSED FOR THE OCCASION PRESENTS BRANDAN SEIXAS (LEFT) WITH A SPECIAL ACHEIVEMENT AWARD & JASON CLANCY (CENTER) WITH OUR 2019 MEMBER OF THE YEAR AWARD
OUR CPG'S! (CHRYSLER PRODUCT GUYS)
PLEASE REFER TO ''UPCOMING EVENTS'' SECTION FOR OUR SCHEDULE AND GET THOSE ''MOPARS'' READY TO ROLL